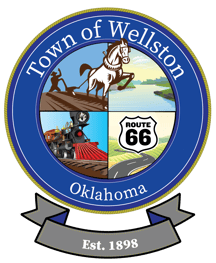 Municipal Court Dates 3:00 pm
The Municipal Court of the Town of Wellston is the judicial branch of town government created by state law and city ordinance, as a court not of record, to impartially hear violations of city ordinances. The fundamental purpose of the Municipal Court is to provide an impartial forum for citizens,
The following procedures will be strictly enforced at all court proceedings:
Face masks are requested for each person in the courtroom.

Only the Defendant, witnesses and his/her attorney will be allowed in the courtroom at a time.

Juveniles are allowed with one parent or legal guardian in the courtroom.

Arrive early for your scheduled court date. Line up outside the court door and enter only when called.

Dress code: No shorts/mini-skirts; no flip flops; no hats or head wraps (excluding religious head coverings); no tank tops, crop tops, or spaghetti straps; no ripped jeans; no leggings; no pajamas; no revealing/inappropriate graphics/obscene language clothing.

Cell phones must be turned off or on silent at all times while in the Court.
January 19, 2023
February 16, 2023
March 16, 2023
April 20, 2023
May 18, 2023
June 15, 2023
July 20, 2023
August 17, 2023
September 21, 2023
October 19, 2023
November 16, 2023
December 21, 2023